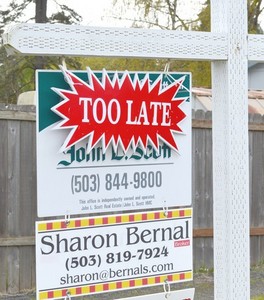 2014 was a very good year for real estate sales in Vernonia. According to local agents 2015 looks like it will be even better.
"The real estate market in Vernonia has changed dramatically since 2013" says Sharon Bernal, a local broker with John L. Scott Realtors. Bernal handles numerous Vernonia properties each year as well as other properties around the tri-county area.
In 2014 a total of seventy-seven real estate transactions took place in Vernonia and Bernal says she had her best year ever, closing sixty-six transactions; thirty-four of those were in Vernonia.
Bernal says she expects that trend to continue. "I think Vernonia is going to have a fabulous year in 2015."
According to Bernal, the region's real estate market reached it's peak in 2006 and then hit bottom in January of 2013 during the recession. During that time Bernal says homeowners lost forty percent of their property values. "We never thought it would go down as far as it did," says Bernal.
The market has been slowly recovering through 2013 and then really turned around in 2014.   In general, prices in Vernonia are usually lower than the rest of the tri-county region, a trend which tends to drive buyers to the Vernonia area when prices start to rise.
"One of the problems we have today is there are not a lot of sellers with equity," says Bernal. She explains that sellers with equity everywhere, not just in Vernonia, jumped in and sold when the market rebounded in 2014. "That's part of the reason we had such a good year."
Bernal said the average price of properties she sold in Vernonia in 2014 was $160,000.
According to Bernal this year there are emerging a few sellers in western Washington County and the rest of the region that have equity in their properties. Quality homes that go on the market at a reasonable price are receiving multiple offers. Bernal says buyers are getting tired of finding the right home and deciding to make an offer, only to end up being outbid. "I just had a client out here last weekend that said, 'We don't want to play that game anymore.'"
Vernonia is close enough to Hillsboro and the jobs in high tech and other industries, making the thirty-five minute commute with almost no traffic very appealing. "Our problem in Vernonia now is having enough listings," says Bernal.
It's not just the short commute to work that makes Vernonia a desirable location for buyers. Most lots in Vernonia are fifty by 100 feet or larger, which is much more space than buyers will find elsewhere. "I'm seeing a movement of people wanting to go back to a simpler lifestyle," explains Bernal. "People are loving Vernonia because even if they buy in a subdivision or a city lot, they are getting a whole lot more space to garden or have animals."
Bernal says another draw is the local school. She says families are tired of their children being just a number in the large districts and find the personalized attention and involvement of staff in the smaller district setting as "a difference of night and day." The new LEED platinum, energy efficient campus is also a selling point to younger families.
Easy access to outdoor recreational activities makes Vernonia a great choice for families and young adults as well, with rivers, streams, timberland, parks and trails practically in the backyard. "They can get on their bikes or motorcycles and go," says Bernal.
Although Bernal says young families make up the majority of her buyers, the new health clinic facility and twenty-four hour ambulance service also makes Vernonia appealing to retirees.
Property taxes are much lower in Columbia County, which is an additional bonus. "There is no comparison to the tri-counties," says Bernal.
The close knit community is also a surprise to some new residents. "Everybody talks about that," says Bernal. "They come out of these subdivisions in Portland and Beaverton and they don't even know who their neighbors were. They say, 'Vernonia is so friendly,' and it is." She says the attractive downtown corridor draws potential buyers at first, but the level of community engagement seals the deal. "We have so many committees and opportunities to get involved and make a difference."
Purchasing and living on acreage is also a motivation for some buyers. According to Bernal bank lending on bare land has loosened up and is currently more readily available. Bernal noted that she had some recent clients in their fifties who were both raised on a dairy farm. They were looking at an early retirement and considering starting a farm in Vernonia. Bernal said she asked them, "Why Vernonia?" "They said the prices were still reasonable and the weather was perfect for a dairy farm," said Bernal. She added that the most desirable properties – one and two acre lots – are hard to come by, but five and ten acres parcels are starting to make their way back onto the market.
There are several small, new developments being constructed in Vernonia right now which are attractive to some potential buyers. "New construction seems to be moving pretty good," says Bernal. As an example she mentioned a new home in the Knickerson Ridge development, a custom four bedroom home on a 7,500 square foot lot with plenty of parking and an oversized two car garage, listed at $229,000. "That house in Hillsboro would be listed at $289,000," says Bernal. "People are driven to come out and look at that property." Other small subdivisions with new homes are located on Fourth Avenue and in Roseview Court.
Bernal says there are some attractive commercial properties available in Vernonia which have been drawing recent attention, including several in the previously mentioned downtown corridor. "People are interested and they are looking," said Bernal.
Bernal's enthusiasm remains constant whether she's discussing homes, bare land or commercial spaces. "I think it's going to be a great year for real estate in Vernonia."