As the economy slowly continues to improve, there are many positive signs that the recovery may finally be reaching Vernonia. Numerous signs indicate things are looking up around Vernonia, with local business owners reinvesting in their businesses by expanding or refurbishing.
Sharon Bernal is a local resident and real estate agent for John L. Scott. Bernal recently purchased the building where her office is currently located on Bridge Street In the space next door, she re-opened 'Out on a Limb,' a gift shop which carries cards, decorations, crafts and gifts with a country theme. Bernal is re-roofing and painting her building, along with remodeling its three apartments.
"I thought it would improve Vernonia, and it was time after the economic downturn," explains Bernal. "Vernonia was ready for 'Out on a Limb' to come back. I thought I could take this old building, and some make improvements. When I looked at it, it was a win-win."
Bernal says the real estate market continues to rebound and is particularly strong in Vernonia. "We have a lot of people from Intel who are looking to live in a small community that is half an hour from where they work," says Bernal.   "And many of them are younger families with kids. And I have to tell you, every person who comes into Vernonia just thinks it's great. They absolutely love it!
Vernonia has something to look forward to this fall as word has spread that the former Vernonia Inn is being renovated. New owner, Jerry Cordell, along with his business associates, brothers Elmer and Santos Rivas, have begun work on the fifteen room lodge renamed the Ride Inn. Cordell says plans call for a complete rehabilitation to the building with a grand opening tentatively scheduled for October 1, 2014.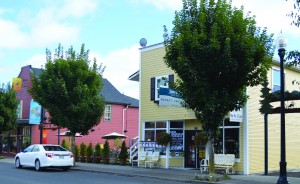 Cordell and his partners had previously purchased the old Masonic Lodge in Vernonia and are currently renovating it. That building will likely be a six room up-scale bed and breakfast.
Cordell says the name Ride Inn is specifically to help tap into the potential customer base of bicycle, motorcycle and other tourists who visit or pass through Vernonia.
Cordell, who currently lives in Portland, has a history of remodeling homes and has completed nine projects over the years. Cordell says he sees a lot of potential for Vernonia and has undertaken a significant investment. "It's not the idea of making money," explains Cordell. "It's the idea of doing something with yourself and your money to improve the community. That's what I'm about."
Dana Roach is the owner of The Black Iron Grille, formerly known as Black Bear Coffee and the Bear Creek Pub. Roach recently did a major kitchen renovation, adding a grill and hood which has allowed him to expand his menu as well as his staff.
"After the flood in 2007 and the drop in the economy a large number of area restaurants closed down," says Roach. "We saw a void and are trying to fill it."
A favorite spot for visitors, especially tourists on bicycles, Roach expanded his outdoor seating area last year and added additional bicycle parking. Roach says he is betting on Vernonia becoming more of a destination. "I'm very excited about the future of this community," says Roach.
Photo Solutions is a small manufacturing firm servicing global high tech industries and is one of the only light industry businesses in Vernonia.   Owner Brad Curtis recently took advantage of Vernonia's inclusion in the South Columbia County Enterprise Zone and expanded his business by purchasing $200,000 of new equipment.
"I see a lot of possibilities for firms to do business out here, especially for businesses where location doesn't matter." says Curtis. "The enterprise zone expansion helps level the playing field." Curtis's manufacturing plant was damaged in the 2007 flood and incentives available through the Enterprise Zone may allow him to move his business to higher ground at the California Avenue industrial site currently under development in Vernonia.
Local businesses and owners see great things happening in Vernonia and are choosing to re-invest in the community.   "If you just come to Vernonia you're going to love it," says Bernal. "If you just get to know some of the people in this community, you're going to love it. I do. That's why I'm here."