Vernonians are excited to see progress on the beautiful new Vernonia Health Center on the south side of town.   Construction has been moving along swiftly through the summer with the new facility scheduled to open this fall.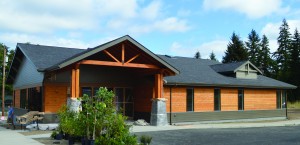 Owned and operated by the non-profit Vernonia Health Board, the new health center will provide a "medical home" where several services can be offered under the same roof.   Primary care, provided in partnership with the Public Health Foundation of Columbia County and Pacific University, will continue. The Health Board is planning to add mental and behavioral health and physical therapy in the near future and is exploring other support services that will benefit their patients and the community.
Health care services are currently being provided at the old clinic building which was damaged in the 2007 flood. The building was repaired following the flood, but the Health Board has made the effort to raise the funds and move to a safe location
The new construction was fully funded with generous support from Meyer Memorial Trust, the Ford Family Foundation, Collins Foundation, Oregon Community Foundation, Samuel S. Johnson Foundation, funds from Providence, their FEMA buyout, and many donations from community members to the Carolyn Keasey Memorial Fund.
The Health Board is happy to be able to provide service five days a week for their patients under primary care provider Albert Rodriguez. Additionally, the partnership with the Public Health Foundation allows a seamless transition so students seen at the student based health center,  Spencer Health and Wellness, may also be seen at the Vernonia Health Center.
The clinic accepts the Oregon Health Plan (Medicaid), Medicare, and a majority of private insurance. For those without insurance, the clinic has staff on site to walk you through the healthcare application process and they have a sliding fee scale for eligible patients waiting for approval.
A grand opening celebration is just around the corner and is another indication that Vernonia is continuing to move forward and grow as a community.