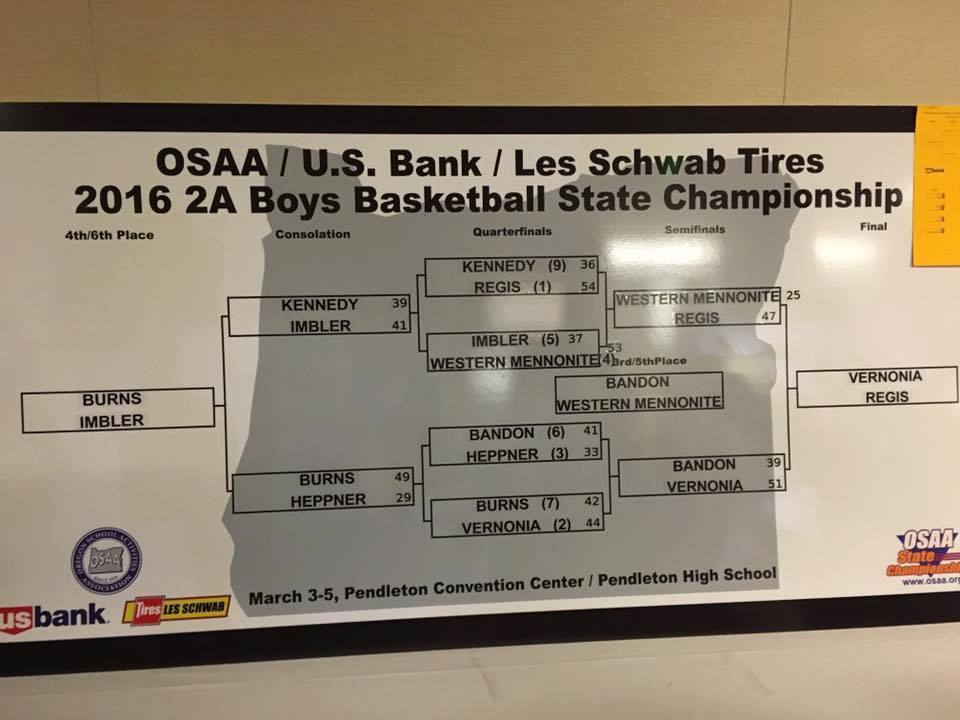 The Vernonia Loggers boys basketball team have advanced to the finals of the OSAA 2A State Championship in Pendleton, after defeating Bandon 51-39 on Friday night, March 4.
The #2 seeded  Loggers will face #1 Regis on Saturday, March 5 at 8:15 pm in the final.
The Loggers were led in their defeat of Bandon by Tristan Adams who scored 19 points on 7 of 10  shooting from the field, including 5 of 8 from beyond the three point line.  Adams was named Player of the Game for the Loggers.  Robert Conner added 8 points and 7 rebounds,  Brett Jones had 8 points, and Clay Sullivan added 5 points and 7 rebounds for the Loggers.
Head coach Devid Weller used his deep bench with 9 players seeing significant minutes for the Loggers during the game.
The Loggers advanced to the semifinals with a 44-42 win over Burns in the tournament opener on Thursday night.  Sullivan led the Loggers with 15 points and 8 rebounds and was named Player of the Game.  Brett Elliot scored 8 for the Loggers including 3 clutch fouls shots to give the Loggers a 43-42 lead with :41 left in the game. Arne Schiemann added 8 points, Francesco Mian  had 7, and Conner scored 6 for the Loggers.