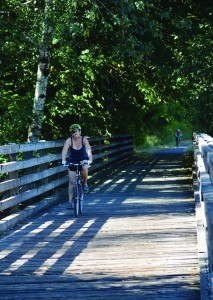 Oregon is well known internationally as a bicycling destination. Located in its scenic northwest corner, Vernonia continues to attract its share of those cyclists who are finding the local Banks-Vernonia State Linear Trail to be the perfect excursion.
This past summer Vernonia enjoyed an influx of visitors, many who traveled up the tree lined and paved trail from Washington County and L.L. Stub Stewart State Park to visit this little town. Others started right here in Vernonia and contributed to its growing reputation as a cycling hub for both local and visiting riders alike. Any season of the year will find riders of all ages scattered along the trail, enjoying the scenery, fresh air, and solitude.
The trail is not just for cyclists. Hikers, runners, and horseback riders also congregate on this multi-use pathway. Managed and maintained by Oregon State Parks, the trail was the first Rails-to-Trails project in the state of Oregon. It has an easy grade with thirteen bridges, including the scenic Buxton trestle. The trail can be accessed at any of 6 points along its progression – including trailheads at Manning, Buxton, Tophill, and Beaver Creek, as well as in Banks and Vernonia. Many cyclists have discovered the joy of riding to Vernonia in the morning, stopping off for a bite to eat at one of several eclectic downtown restaurants, before heading back down the trail towards home.
The trail was extended last year by the addition of the newly established Tualatin Valley Scenic Bikeway. In 2013 the Oregon State Parks and Recreation Commission formally approved the Tualatin Valley Scenic Bikeway as the tenth designated bikeway in the state, cementing the region as one of the top spots to cycle in Oregon. The bikeway features the best of the northern Willamette Valley, from friendly downtowns to fertile farmlands and lush natural areas. Set in the heart of Washington County and traveling into Columbia County, the Bikeway runs for 30 miles one way, and connects in Banks with the Banks-Vernonia State Trail.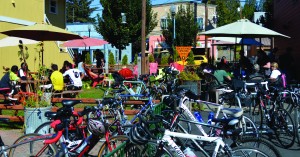 From the trailhead in Hillsboro, the Tualatin Valley Bikeway travels on mostly rural roads. The middle portion of the Banks-Vernonia Linear Trail travels through lush forests including a portion of Stub Stewart State Park and features a gentle climb of about 600 feet. Overall the Scenic Bikeway is rated as a moderately challenging ride and can be enjoyed by a wide range of cyclists.
With the route's layout, cyclists have many overnight options for multi-day rides, while day trips covering sub-sections of the route are easy, too. Stub Stewart State Park offers full hook up RV camping, as well as primitive campsites. Vernonia's Anderson Park, which serves as the trail head in Vernonia, is a full RV park with showers and flush toilets, but also offers primitive tent camping along the Nehalem River. Vernonia Lake and Airport Park in Vernonia offer primitive camping.
Paved trails in and around Vernonia give families a chance to ride together as well. The connection from the Banks-Vernonia Trail to Webb Way at Anderson Park is a flat and easy ride for even the youngest cyclists and takes riders to scenic Vernonia Lake.
For mountain bikes enthusiasts, Stub Stewart State Park, just 10 miles south of Vernonia, has a new Free Ride Skills Area that is open to the public. A session/training area includes options for beginner to advanced Free Ride mountain bikers. Initial construction has focused on beginner and intermediate level trails but construction in the area is ongoing. For others looking to explore more of the outdoors, the Vernonia region is literally covered with logging roads, many of which are open to the public for limited recreational use.
As you can see, it's no wonder Vernonia is becoming a destination for bicycle riders as well as other trail users who want to enjoy the great outdoors.