If you haven't visited L. L. Stub Stewart State Park in the last few years, you should make plans to do so soon.
Since its grand opening in 2007 Stub Stewart State Park has seen many changes and the addition of many services and recreational attractions. Located just ten miles south of Vernonia on Highway 47, the park is a great place to go spend a few hours, a day, a weekend or longer and is great to use as a base camp for local day trips; there is plenty to do in this corner of Oregon.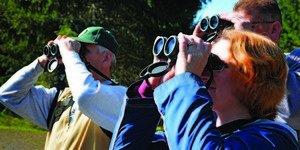 The park features interpretive programs during the summer months, with ranger led hikes, programs for children and more. Visit the Discovery Depot to find out more about interpretive programs, learn about the history of the region, and pick up park information.
Here are just some of the things to do in this jewell of a park:
Camping: The camping loops at Stub Stewart sure look different from when they first opened in 2007. Two camping loops offer over 75 spacious RV sites with full hook-ups and 12 walk-in tent sites; these loops have flush toilets and hot showers. A play structure has been installed in one loop. The sites are large and spacious and provide a great place for the whole family to relax, play and more.
Brooke Creek hike-in camp is just ¼ mile hike into a grove of large, tall trees for those who prefer a primitive camping experience; communal firepits, pit toilets and water are available at Brooke Creek Campground.
Hares Canyon Horse Camp has 15 full hook-up sites with horse corrals, flush toilets and hot showers.
Mountain Dale Cabin Village offers 15 single and double room cabins (starting mid-June 3 cabins will be pet friendly), flush toilets and hot showers are located within the cabin village. Cabin camping is a great alternative to RV or tent camping, and the cabin village has the best view in the park.
Firewood can be purchased in all camping loops and ice is available for purchase during summer months. Two meeting halls are available for rent for gatherings as well as the covered shelter at Hilltop Day Use Area. Reserve online today at www.oregonstateparks.org!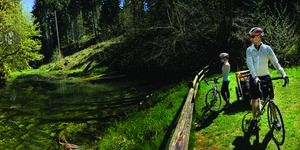 Mountain Bike Trails: Stub Stewart features one of the best mountain bike specific areas in the region and is being developed by volunteers. The entrance to the area has a kiosk which explains the risk and skill levels on the trails. The easiest level is a cross country trail – a single track which is being built by the Northwest Trail Alliance (NWTA).
The highlight is the free ride area with beginner, intermediate and advanced trails. It is the first mountain bike free ride trail network sanctioned within an Oregon State Park and remains in development by the Westside Trail Federation with more trails and technical features added each season. Skills filters at the start of the trails allow riders to gauge their comfort level for the types of features they will encounter on the trail.
The mountain bike trails are built away from the day use areas. Trail Patrol volunteers provide trail etiquette and safety assistance for users.
Trails: Over 30 miles of mixed use trails, great for hikers, bikers, and equestrian recreation, wind their way throughout the park. There will be continued trail work this summer; bridges are being installed as well as trail re-routes.   Come explore the trails to experience the wildlife that calls Stub Stewart "home." Hilltop Day Use area is the trailhead for all trails within Stub Stewart State Park, and provides a great view of the coast range! The Banks-Vernonia State Trail offers 21 miles of paved trail with access from trailheads in Banks, Vernonia, Manning, Buxton, Tophill, and Beaver Creek.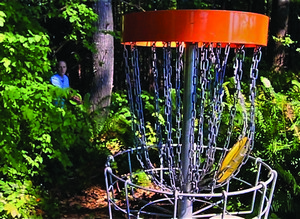 Disc Golf: A challenging 18-hole, forested course is one of the top rated in the state of Oregon!   The course travels through large, tall trees and features both professional and amateur baskets. It is recommended to walk the course prior to playing to determine the basket placement. Disc Golf course maps are available at the Discovery Depot. A 3-hole mini course located between the camping loops acts as a casual starter course for all ages.
Make sure to make a visit to Stub Stewart State Park part of your camping plans this year. You just might be surprised by what you find.
L.L. Stub Stewart State Park is located at 30380 Hwy 47 in Buxton, OR 97109
Park information: 1-800-551-6949 Reservations: 1-800-452-5687