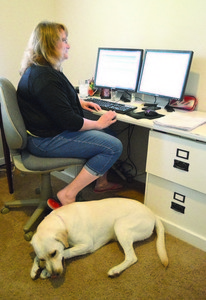 In the old days Vernonians worked in the woods or the mill, cutting down trees and turning them into lumber.
The mill shut down over fifty years ago, and although some locals still work in the woods, things have certainly changed for workers who chose to live in Vernonia. Many work outside of town, commuting each morning to Hillsboro, Beaverton, Portland or other parts of the region. Others telecommute, working from a home office.
The commute from Vernonia is not too bad, depending on the time of day you are traveling. In fact some people enjoy the quiet and scenic drive. It's just thirty-five minutes to Hillsboro; the first fifteen minutes is through a beautiful forest. It's a little further to Portland, with a little more traffic, but locals don't seem to mind the trip.
Jason Riddell works in Research and Development at the Nike campus in Beaverton, making prototypes for new equipment and shoes. He drives forty-two miles each way, five days a week and says it takes him about fifty minutes. Riddell has been making the commute for eleven years and says it doesn't bother him. "You just get in the car and go on autopilot," says Riddell. "I drive twice the distance that people I work with who live in Vancouver, but it takes me less time."
Occasionally Riddell can work from home. "I know someone that lives in Vernonia and works in Accounting—she never comes into the campus. I have a lot of meetings and face time with customers that are required."
Riddell says living in small town Vernonia makes the commute worthwhile. "I just like the community," says Riddell. "I live a block away from Vernonia Lake and the Banks-Vernonia Trail system is right there. It's quiet and you know people."
Donna Webb is a full time medical transcriptionist for Providence Health and Services who telecommutes four days a week, ten hours a day. Webb says there are other Vernonians working for Providence who also work from home.
For Webb, working from home is not a new concept. "Our department started sending people home to work about twenty-five years ago," explains Webb. "At first I worked part-time from home and as technology grew I was able to work full time from home."
Webb says to do her job she just needs an internet connection. She can email or instant message co-workers as needed. Department meetings are held on line. If she has computer problems the IT department can take over her screen and usually fix the issue.
Webb says telecommuting has both pros and cons. The obvious pros are that she doesn't spend time in the car or money on wear and tear and fuel. If she had to drive into the office on Portland's east side, she would spend three hours in the car every day.
She says not having to deal with people—customers or co-workers has its advantages, although she does miss some of the human interaction.
She says telecommuting cuts down on employee sick days. She also said that occasionally she feels isolated or "out of the loop" when she works from home.   She also noted that working from home requires great discipline. "People say they couldn't work from home because they would be distracted and want to do housework or other chores. It's not for everybody."
A huge benefit for Webb is that she has more time to spend with family and more time to volunteer and be involved in the community. She says people who commute to work often don't have the time or the energy to volunteer.
Even though she says she loves working from home, after twenty years Webb says she may be considering a change in the future. "I think I'm ready for more people contact again."
Kathy Larsen is a data analyst at Daimler Trucks North America. Three days a week she drives an hour to her office on Swan Island in Portland; the other two days she works from the computer in her home office. "My job is very conducive to working from home," says Larsen. She mostly works alone on 'ticket driven' projects and has a queue that gives her the tasks she needs to complete each day.
Larsen says her work doesn't require a lot of interaction with her co-workers, but if she does need to talk with someone she can easily do so electronically through email or instant messaging.
Larsen has Frontier DSL service for her home computer to access her work server through a VPN (Virtual Private Network) and has two monitors and a Voice over IP phone system at her home work station. "Where I'm working from is invisible to my customers or my co-workers," says Larsen. "They have no idea if I'm working from home or the office."
Larsen seems to have the best of both worlds. She says she enjoys the days she goes into the office for the social interaction with her co-workers – going out to lunch, walks during breaks or after work drinks and shopping. When she works from home she saves two hours of commute time each day, plus the fuel expense. She can be at home during the day with her dog Harper and when she's finished work at 3:30 she can head straight outside to her deck or work in the garden.
Although working from home allows her quite a bit of flexibility and independence in her day, (she can start a load of laundry, play with her dog, or run a local errand) Larsen says her work is monitored through the computer system. "They know when I'm on line and can see how much work I get done," says Larsen. "Big brother is watching."