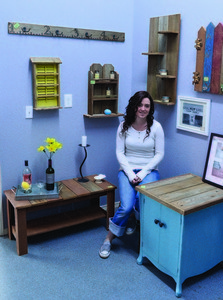 Why would a family chose to move to Vernonia to live and work?
Tiffini Meyer and family have lots of reasons.
Meyer and her young family moved to the community from Beaverton in June of 2014 after Tiffini opened a retail store and workshop in downtown Vernonia. Meyer's shop, Landon Avenue Design, features handmade, one-of-a -kind home decorations. "I take things that are useless and make them useful again," explains Meyer.
"To rent space in Beaverton for what I'm doing – the cost per square foot is just outrageous," explains Meyer. "You have to have serious cash to get up and running and I just didn't have it."
Meyer's parents live at nearby Fishhawk Lake and saw the for-rent sign in the storefront window of the corner property where Meyer's business is now located. "My husband and I came out and talked to the owner and it just kind of happened," she explains.
To expound on Meyer's business, she takes old wooden items she finds at garage sales and thrift stores – furniture, windows, doors, ladders and more – and re-purposes them. "I take things people normally wouldn't or couldn't use any longer and make them into something decorative or functional that they can put back in their home," says Meyer.
In addition, Meyer is a Stampin' Up demonstrator who creates invitations for weddings, baby and bridal showers, parties, and greeting, thank you and save-the-date cards. "Anything that involves paper," she says. "That's actually become a big part of my business now."
She is also a vendor at a large Portland Christmas bazaar and is also exploring the idea of renting some of her furnishings and decorations for weddings and other events.
Her decorations, invitations and cards have become so popular she's having trouble keeping up with demand and keeping items in stock. This is a good problem to have as a small business owner.
"I haven't even been in business a year," says a somewhat amazed Meyer. "I have lots of big ideas about where I'd like to go with this."
Initially Meyer was creating her items in her garage at home and selling them on line. As her business grew she realized she needed a bigger workshop space, which is what initially brought her out to Vernonia.   After seeing the corner space with the big windows the idea of a retail store took shape.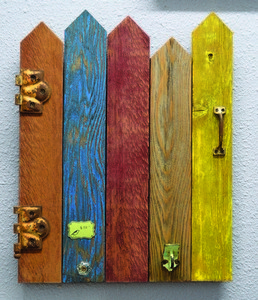 Meyer, twenty-six, and husband Ray, were renting a house in Beaverton along with six-year-old daughter Madeline and two-year-old son Landon. Ray, a manager at Cash-n-Carry, wasn't happy and wanted them to own their own home. He also preferred that he be the one commuting to work. "We started looking in North Plains and out and quickly realized we could get more property and more house for our money in Vernonia," says Meyer.
Meyer says they saw an opportunity in Vernonia. "We thought if we're going to have a business why not start it somewhere where the town is growing, so the business can grow with the town," she explains.
They bought a home in Vernonia within walking distance of her shop and moved two weeks after Landon Avenue Design opened.
Meyer says she loves living and working in small town, quaint Vernonia. She said she was surprised when they made an early purchase at the local hardware store and were handed a hand written receipt. "I felt like I had fallen back through time," says Meyer with a laugh.
She and her husband are both naturally social and have made friends and gotten to know people quickly. "Everybody knows everybody here," says Meyer. "I like knowing who is walking down the street, who is coming in my store, who my customers are. I like knowing who is dependable. You don't find that in Beaverton or other bigger towns."