Many classic coming of age stories involve fishing, featuring idyllic interaction with nature as part of the ultimate childhood. The process of learning how to catch a wary trout parallels the journey to adulthood. Quite a few people have speculated that David James Duncan 's The River Why is based on the Nehalem River. The Nehalem is a great fishery for both resident and sea-run cutthroat trout, featuring deep pools and long riffles.
Vernonia is located at the junction of Rock Creek and the Nehalem River in the North Coast range of Oregon. Ninety miles from the ocean, most salmon are wearing their spawning colors when they arrive, so be sure to make a special salmon watching trip in October to catch a glimpse. Anglers concentrate on the main stem from January through early June, and then move to the larger tributaries in the heat of the summer.
The Nehalem River will support drift boats during the winter flows, and tends to clear quickly after a rain. Spring fishing will have to take place in shallow water craft, preferably something sturdy enough to bang around some rocks and fallen trees. With human populations clustered at various points of the river, there remain stretches where the only spectators are bald eagles and scared squirrels.
Rock Creek originates in the heights of the coast range and then travels east over 26 miles before dumping into Vernonia. It is host to native populations of cutthroat trout, both coho and chinook salmon, and steelhead. The catch and release fishery for steelhead is spectacular with a fly or light tackle, as the big fish will challenge even the most skilled angler.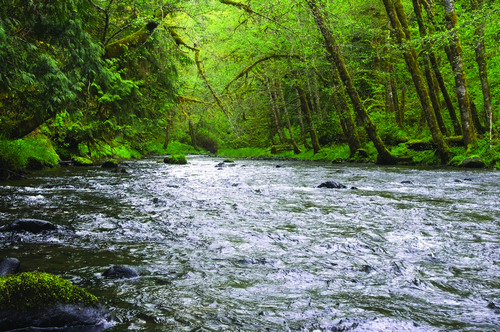 My favorite spots in Rock Creek are off road, and can only be accessed by exploring the gated logging roads. Look for access through ODF roads and via the Rock Creek mainline. The owners of True Value Hardware in Vernonia have been fishing the steelhead of Rock Creek for decades and might share a tip or two when you visit their Bridge Street store.
Anglers can also visit Vernonia Lake, just to the east of downtown Vernonia. This lake is actually the millpond for the long closed Oregon-American lumber mill, and the path around was the grade used by steam locomotives delivering old growth logs from the forests to the mill. Evidence of this history is easily seen around the Lake, and there are interpretive signs for the inquisitive.
The Lake has excellent access, with two fishing platforms that are ADA wheelchair accessible, as well as a boat ramp. No gas powered motors are allowed, and it's small enough that a canoe or small rowboat is the ideal conveyance. The 34 acre lake is well stocked by ODFW with over 12,000 rainbow trout each spring. They will also drop off brooder trout occasionally, and there is a strong warm water fishery in summer that includes native population of bluegill, perch, largemouth bass and crappie.
Remember to check the current fishing regulations before getting a line wet, and be prepared with the right gear. Several downtown businesses offer licenses and fishing gear, even nightcrawlers. The host at the lake stays current on the fishing action and is always willing to answer questions about "What's hot?"