Looking for place to hold a quaint wedding and reception in the country? How about a business meeting or some type of retreat ? Do you have a family reunion, bridal shower, or surprise birthday party you need to plan?
Vernonia has several venues that might be just right for your upcoming event.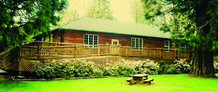 The Cabin in Vernonia, formerly known as the Scout Cabin and managed by the Friends of the Scout Cabin, is a beautifully restored log cabin nestled among huge trees in Vernonia's Hawkins Park.   The Cabin has a full kitchen, river rock gas fireplace, wrap around deck with tables and seating for 100 people. Hawkins Park features a gazebo perfect for taking your wedding vows.
The Cabin in Vernonia is also accompanied with a wonderful story about its history. Built in 1928 and used by local Scout troops for decades, the cabin was obtained by the City of Vernonia when it fell into disrepair in the 1980's. It sat unused and was then further damaged in 1996 by a severe flood. A group of local volunteers, spearheaded by longtime resident Shirley Daughtry, organized the Friends group, developed a business plan, raised funds, and rebuilt the cabin over a three year period. The end result is a handsome and functional community center that hosts youth activities, town meetings, and other special events. The Friends of the Scout Cabin rent it out and continue to maintain the venue with the proceeds.
            Cedar Ridge Conference and Retreat Center sits in the hills just outside Vernonia on twenty-eight acres along Rock Creek. Originally constructed in 1963 as a basketball camp, this staffed full service facility boasts a kitchen and dining area, a 1200 square foot conference center, lodging, a swimming pool and lots of open outdoor space. Owned by formed Portland Trailblazer and 1977 NBA Champion Larry Steele, Cedar Ridge continues to host basketball camps each summer, along with corporate picnics, weddings, retreats, youth camps, and more.
The Steeles are particularly proud of the outdoor wedding chapel located at the north end of their property. "That section of the facility has always stayed pristine," said Larry, noting that he only recently decided that the best use was as a natural chapel. The giant cedar and Douglas fir tower overhead, allowing sunlight to filter through while still creating a foliage roof. Parking is convenient, and the facilities for pre- and post-wedding activities sit just out of sight of the chapel.