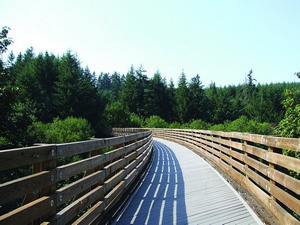 Oregon is well known internationally as a bicycling destination. Vernonia has been capturing its share of those cyclists, as well as hikers and equestrian riders, due to its proximity to two regional trails. Combine that with nearby Stub Stewart State Park and the multitude of logging roads surrounding the town, and Vernonia finds itself turning into a biking and hiking mecca.
The Banks -Vernonia State Trail, managed and maintained by Oregon State Parks, was extended in 2013 and became part of the new Tualatin Valley Scenic Bikeway. The entire trail system now stretches for fifty miles, beginning in Hillsboro and ending in Vernonia. It starts on mostly rural roads through fertile farmlands and lush natural areas before joining the paved trail in Banks and heading into the forest.
The Banks-Vernonia Trail was the first Rails-to-Trails project in the state of Oregon.   It has an easy grade with thirteen bridges, including the scenic Buxton trestle. The trail can be accessed at six trailheads and permits only non-motorized use at a safe, slow speed.
The middle portion of the Banks-Vernonia Linear Trail travels through a portion of Stub Stewart State Park and features a gentle climb of 600 feet. Overall the Scenic Bikeway is rated as a moderately challenging ride and can be enjoyed by a wide range of cyclists.
Many cyclists have discovered the joy of riding to Vernonia in the morning and enjoying the scenery, fresh air, and solitude, then stopping off for a bite to eat at one of several eclectic restaurants the downtown has to offer before heading back down the trail towards home.
Paved trails in and around Vernonia give families a chance to ride together as well. The connection from the Banks-Vernonia Trail to Webb Way at Anderson Park is a flat and easy ride for even the youngest cyclists and takes riders to scenic Vernonia Lake.
For other trail users not on two wheels visiting Vernonia, the paved Banks-Vernonia Trail is great in any weather for walking, running or just strolling and enjoying the scenery.
The Crown Zellerbach Trail is a different type of trail altogether and is Columbia County's newest jewel.
Spanning the twenty miles from the outskirts of Vernonia to Chapman's Landing on the Columbia River in Scappoose, this lightly used trail is accessible to all non-motorized traffic, including bikes, horses and hikers and is maintained by Columbia County. The trail is mostly hard pack, with some areas of gravel, and follows logging roads and abandoned rail lines. It is accessible at several locations along the Scappoose Vernonia Highway.
The CZ Trail gives users a new opportunity to experience the beauty and history of Columbia County. Its rougher surface makes it attractive for mountain bikes as well as equestrian trail riders and provides a great alternative to the paved Banks-Vernonia Trail.
For mountain bikes enthusiasts, Stub Stewart State Park, just 10 miles south of Vernonia, has a Free Ride Skills Area that is open to the public. A session/training area includes options for beginner to advanced Free Ride mountain bikers. All trails within Stub Stewart Park are open to mountain bike riders.
There are more than thirty miles of natural surface, shared-use forested trails of various difficulties meandering through the rolling hills to help you explore this 1800 acre park. For the equestrian enthusiast the park has the Hares Canyon Horse Camp, open March 1 through October 31, with full-hookup sites and corrals.
For others looking to explore more of the outdoors, the Vernonia region is literally covered with logging roads that are regularly used by hikers, bikers and equestrian riders.   Many of these trails are within walking distance of downtown and are open to the public for limited recreational use.
As you can see, it's no wonder Vernonia is becoming a destination for bicycle riders as well as other trail users who want to enjoy the great outdoors.