Vernonians love their horses. The town has a great equestrian history and numerous opportunities for both young and old cowboy and cowgirls to take part in equestrian activities. Whether it's trail riding, horse gaming, 4H or high school competitions, Vernonia has something for everybody. We even have our own rodeo queen!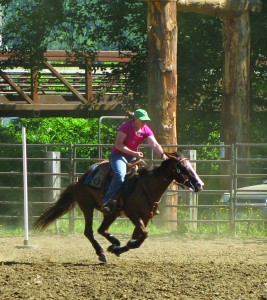 The Vernonia Ridge Riders are a long standing community group who organize gaming days at the Vernonia Horse Area located at Anderson Park right in town. They also hold regular trail rides throughout the summer. Their biggest annual event is their Play Day which takes place on the Sunday of the Vernonia Friendship Jamboree and Logging Show during the first full weekend in August. The Ridge Riders are also always a favorite when they ride in 4th of July and Jamboree parades each summer.
            Vernonia has an active Equestrian 4H group which participates in the Columbia County Fair each year. High School students can compete as part of Vernonia OHSET (Oregon High School Equestrian Team). This year the Vernonia team qualifies six of their riders for the state meet.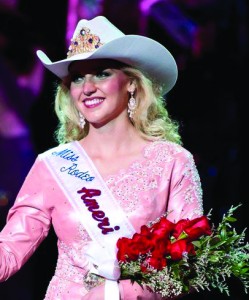 In 2012, Mackenzie Carr of Vernonia was was crowned Miss Rodeo America in Las Vegas at the MGM Hotel and Casino, at the culmination of the week-long Miss Rodeo America Pageant held in conjunction with the Wrangler National Finals Rodeo. At the pageant, Carr won a landslide victory taking home individual honors for Horsemanship, Personality, Appearance, and Speech. Carr, a 2008 graduate of Vernonia High School and class Valedictorian was previously crowned Miss Rodeo Columbia County and Miss Rodeo Oregon. As Miss Rodeo America Carr spent a year traveling the U.S. as an official spokesperson for the sport of professional rodeo, appearing at approximately 100 rodeo events as well as schools, civic groups and other special events during the year of her reign. Carr returned to Oregon State University following her year of Miss Rodeo America and is completing a Bachelors Degree in Speech Communications.